3 Office Changes You Can Make to Support Neurodiverse Employees
Melissa Angell
More workers are resuming their pre-pandemic commutes and returning to the office, making now a good time to take another look at your office setting to make sure it's an inclusive one. Approximately 48 percent of workers who commuted to the office in 2020 before lockdowns happened were back in their seats during the week of Sept. 8 to Sept. 14, data from property management company Kastle Systems shows.
While businesses have embraced diversity, equity, and inclusion in the last few years, there are plenty of gaps that still need to be met, especially when it comes to neurodiversity. "A lack of awareness and understanding has led to hiring processes, management practices and workspaces being designed only with neurotypicals in mind," the Chartered Institute of Personnel and Development, a human resource management organization in London, wrote in its "Neurodiversity at Work" guide.
It's estimated that 15 to 20 percent of the workforce encompasses neurodiverse employees, or those who have brain differences that lead them to interact with the world differently. While neurodiversity is often associated with conditions like autism, dyslexia, and ADHD, it's not solely genetic. If someone suffers a head injury from a car crash, they could deal with lingering symptoms that fall under the spectrum of neurodiversity.
Neurodiverse employees can encounter varying levels of sensory overload, so there's no single office design that works for everyone. While some employees are quick to seek out the necessary accommodations they need, others may be more reticent – and that's why designing an office space that provides staffers choices in where they get their work done should be top-of-mind. "Part of working with neurodiverse employees is trying to create a choice when they come to work and creating spaces that they can go to," says Aimee Collins, a design principal at global design consultancy firm Unispace.
If you've been thinking about making some upgrades but aren't sure on what to do first, here are some tips on getting started.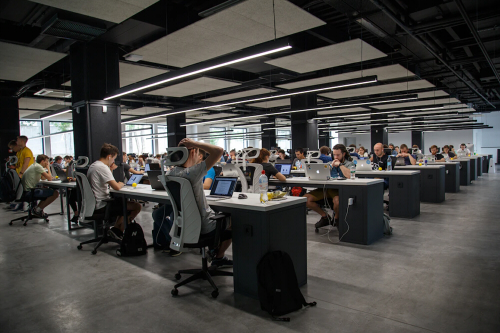 Offer Flexible Lighting
Lighting can be a challenge for some neurodiverse people. Fluorescent lights typical of older workspaces tend to flicker and be overtly bright. While that may just be annoying for most people, it can be a real obstacle for anyone who experiences photophobia, or eye discomfort that occurs in bright light. Roughly 80 percent of people who experience migraines report symptoms of sensitivity to bright light, according to WebMD. "If the lights become too strong, that can be a distraction or a disturbance as well," says Unispace's Collins. Instead, Collins recommends installing dimmable lights and providing softer or more natural light.
Give Workers Some Quiet Spaces
It can be difficult to work in a noisy office, hence the importance of good acoustics. But not every workspace is conducive to optimum acoustics. (For instance, newsrooms.) That's why Collins recommends having designated quiet areas where employees can go to focus and feel grounded. If there are now spare offices vacated by those who are still working remotely, designating them as quiet spaces is one option to consider. Another avenue is to invest in more sound-proof furniture, such as egg pod chairs. Collins also recommends looking into dropped ceilings, or a secondary ceiling that hangs below a main ceiling. While wide open-ceilings and structures may be trendy, Collins explains that those types of spaces create echo chambers void of acoustic balance. "With dropped ceilings, you can have that sound absorption at a level that allows for a quieter space," Collins says.
Embrace Neutral Tones
When outfitting a space, Collins recommends going for neutral tones (think beige, taupe, cream, gray, etc.) over bright colors or loud patterns on furniture. The latter can be distractions and even stressors for some. Collins shares an example of a neurodiverse employee who was unable to work because they were sitting in a space outfitted with bright yellow walls, and the walls appeared to be vibrating to them. "You want to make a space feel cozy," she explains.